Even moms who told you not to buy anything for Mother's Day will be glad to receive a flowering plant. And if the plants are made of Lego-like bricks, they'll be even happier because they won't wilt and require no care. Go through JMBricklayer's selections and find some beautiful and affordable building block flowers that make a perfect holiday gift!
Flower Plant in Pot
Orchid 20106 (40% off During 4th-14th May)
In Chinese culture, the orchid is known as one of the Noble Flowers, which represents elegance, nobility, and moral integrity. Therefore, gifting an orchid on Mother's Day not only symbolizes the resilience and purity of motherly love, but also expresses filial gratitude and piety.
Every petal is saturated with color, smooth, and textured beautifully. Under the green leaves, you can see potting soil covered with small pebbles, which conveys a sense of tidiness. With a huge discount, the orchid makes a perfect choice if you're on a budget!
Fairy Lily 20119
The lily is often associated with maternal love, because its shape and white petals are considered similar to a mother's embrace, representing a mother's tenderness and protection.
The whole plant is arranged in a bright vase. Little golden stamens are surrounded by pure white lilies, a few purple flowers stand on the side. The long green leaves are upright for some, while drooping for others, but they are thin and large. Place it on your mom's desk, it will definitely add a touch of fresh greenery when she feels fatigued.
Strelitzia Reginae 20120
Strelitzia Reginae is also called bird of paradise. The real one is a tropical or subtropical plant that requires plenty of sunlight and humidity. But owning a building brick pot plant requires minimal maintenance.
The plant set has broad, sword-shaped leaves with a faint vertical pattern on the surface. The colorful flowers resemble the wings of a bird with hues of orange, blue, and purple. Its symbolism represents freedom, elegance, and independence, just like how mothers play strong, independent, and warm roles in life.
Bouquet of Flowers
If your mom loves flower arranging and enjoys a burst of colors, then our flower bouquet is just a great choice! We offer a wide variety of flowers with vibrant colors, and you can arrange them in different vases, whether one or multiple.
Flower Bouquet 20123
This features mainly yellow chrysanthemums, complemented by roses, hibiscus, carnations and red tulips. In flower language, yellow chrysanthemums represent gratitude for a mother's hard work and care.
Flower Bouquet 20124
You may easily note that the kit highlights sunflowers as the main flower, accompanied by daisies, lavender, purple tulips and some eucalyptus leaves. A mother's sunny love and care resemble a sunflower that faces the sun, so why not gift it to your best mom?
Flower Bouquet 20109
I couldn't resist getting this bouquet for myself. The delicate baby's breath, vibrant tulips, and fragrant gardenias instantly lifted my mood.
Botanical Succulent Bundles
They include several individual succulents, each with less than 100 Lego-like pieces. But each set comes with separate instructions. Mini sets allow you to build any of them in a short time, but enjoy a great sense of accomplishment! They are perfect for busy moms who love building brick sets.
Succulent Flowers 20113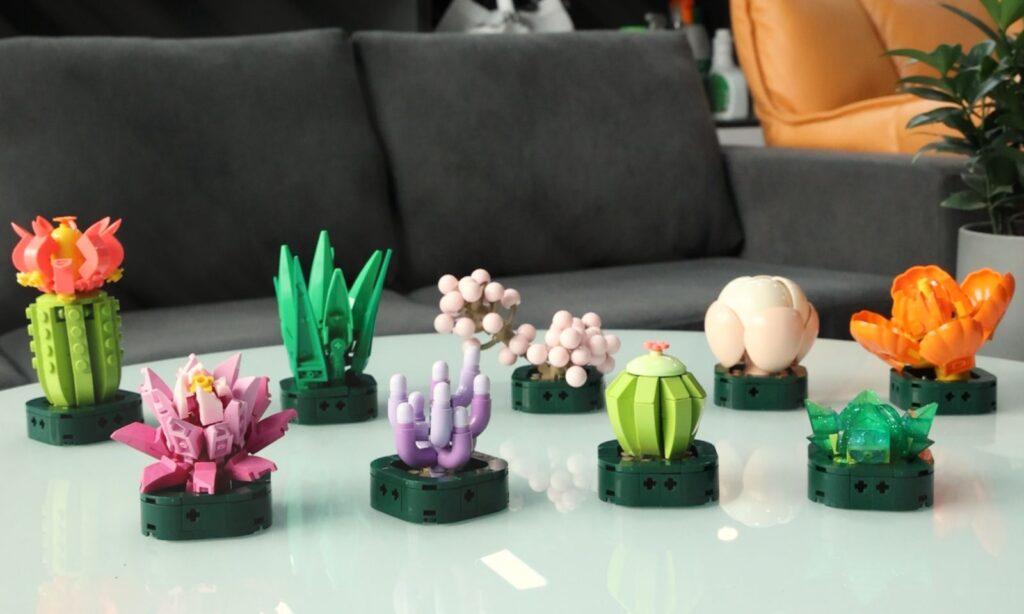 Contains nine types of succulents such as cactus, Burro's tail, lavender, aloe, and moon cactus. These small plants come in bright colors and are delicately shaped. If I receive them, I will place them individually on coffee tables or bookshelves, or put together to create my unique succulent garden.
Succulent Sets 20104, 9 Packs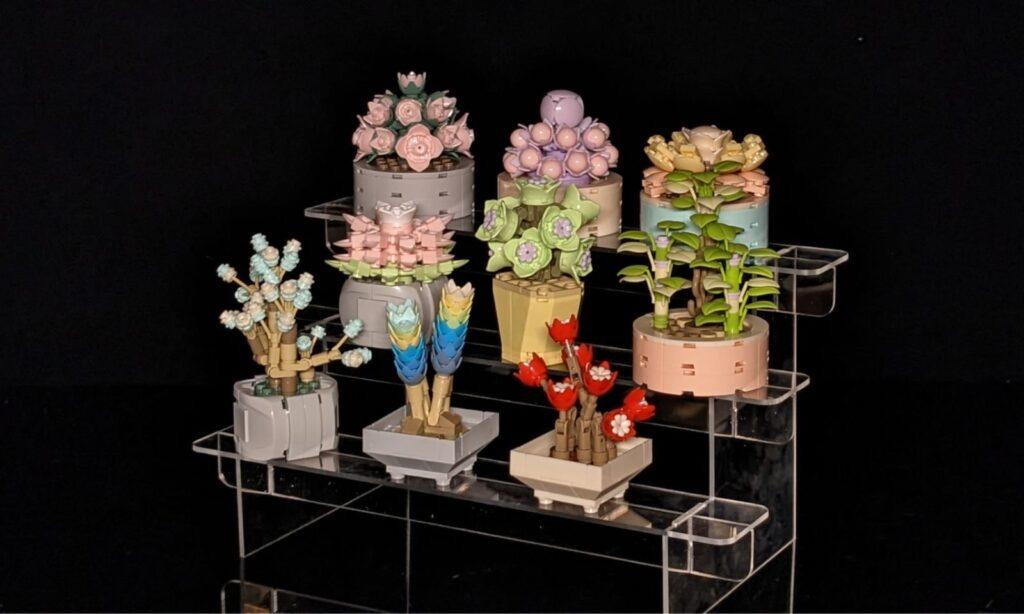 Mostly belongs to the Crassulaceae family, but how many names of them do you know? This variety is featured by their thick and colorful leaves. They look like little jewels, miniature balloons or vines that are crafted by the hands of a mischievous fairy. You can perfectly incorporate them into your indoor decoration!
Succulent Arrangement
For moms who enjoy the art of potted plants, you can choose from our succulent arrangements that require no water or care. In a medium size, they cleverly combine different succulents, creating a diverse yet simple beauty. In addition, the light in each bud can make the cute set even more awesome in the dark!
Purple Succulent 20101
The purple color is both gentle and vibrant, which will bring joy to every viewer. The light purple petals reveal a sense of agility, too. Meanwhile, this succulent potted plant is also mixed with some green plants, I don't think anyone can refuse such a stunner.
Orange Succulent 20102
The light and dark orange succulent plants interweave with each other, it creates a harmonious yet striking color tone. Some of them have round leaves, like flames.
Pink Succulent 20103
The overall color tone is mainly light pink, gradually fading to light purple leaves. The pot contains different plants, and the rich green leaves match the pink succulents perfectly.
Dessert Play Food
Cake Sets 20122, 12 Packs
A set of lifelike desserts, including cakes, ice cream, cupcakes, macarons, etc. They have different shapes and vibrant colors. The exquisite details, such as fruit slices on the cakes and small patterns on the macarons, make them look like real ones.
Moreover, they are extremely easy to assemble and relaxing to play with. These beautiful dessert toys are an excellent gift for moms, and both children and adults will love them.
To conclude, a vibrant flower bouquet or a long-lasting pot plant are both impressive Mother's Day gifts. In addition, you may come up with countless ways to show appreciation for your special mother in life. For more holiday gift ideas, check out other JMBricklayer collections. Happy Mother's Day!
Ps: Use coupon code A4XVY6VK to save 15% on all non-sale products.
Join us for free custom bricks and a chance to enjoy our new releases for free.