Description
【Exquisite Building Block Set】: The mechanical T. rex dinosaur building block set consists of 1470 high-quality building blocks, which can be used with confidence. The entire model measures 23.60in(L) x 9.80in(W) x 11.80in(H), and all accessories are packaged in individual bags in the order of assembly, with colorful assembly instructions to help you easily distinguish and complete the assembly.

【Creative Design】: The design of this dinosaur block model is very clever and creative. The opening and closing of the dinosaur's mouth can be adjusted at will, the neck can be turned, the tail can swing from side to side, and the claws are particularly realistic. Overall, the design is very interesting. If you are interested in this theme of toys, then you can choose the mechanical dinosaur block kit.

【Enjoy the Fun of Assembly】: The building block toy model is very suitable for assembling with family and friends, and you can experience the fun of division of labor and cooperation. If you also like archaeological creatures and like to study creatures with hundreds of years of history, this mechanical dinosaur building block is a good choice, you can imagine yourself in the century it lived in when you assemble it, it must be a great experience.

【Meaningful Gifts】: Building block toys can improve logical thinking ability and imagination, help brain development, cultivate patience, and are a great gift for family and friends. You can gift it to your family and friends on holidays like birthdays/Christmas/Halloween/New Year, they will surely be very happy. And you can also take this building block kit home as your beloved collectible, it will be a meaningful thing.

【After-sale Guarantee】: After you purchase our products, if you find any problems with the products, you can contact us and we will process the refund for you. In addition, our products are shipped after rigorous inspection, so you can use them with confidence. However, if you find the kit is still missing after receiving the product, please contact us and let us know and we will ship the missing parts to you free of charge.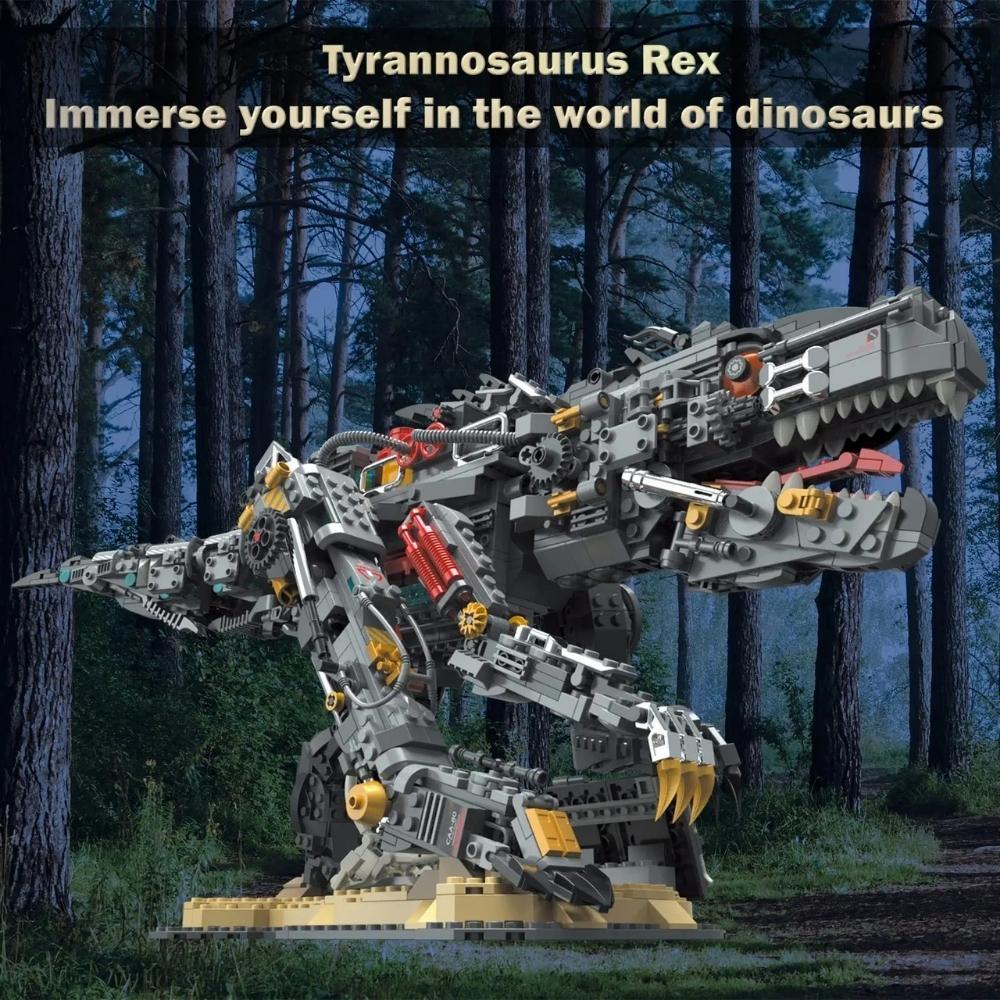 JMBricklayer 70101 Mechanical Dinosaur Building Block Kit
The JMBricklayer dinosaur model kit contains 1470 high-quality building blocks and colorful instructions.
The source of the design of the dinosaur model can be traced back to the Jurassic period. According to fossil research, tyrannosaurus rex evolved from the primitive coelurosaur and has a long history.
In the processing of appearance and details, the real dinosaurs are highly restored, and the momentum of the tyrannosaurus can be felt from the appearance.
The whole dinosaurs building block model is very cool, it is a dinosaur model with commemorative significance and collection value.
Build a Model of Your Own JMBricklayer Mechanical Dinosaur Building Blocks to Explore Its More Playability
Enjoy Building Blocks Game – Build and Play Dinosaur Building Block Models with Your Family and Friends
Moveable parts

: the dinosaur's tongue and arms can be moved manually.

Turnable part

: the neck of the dinosaur can be turned left and right.

Adjustable parts

: the back tentacles, multiple joints and keel of dinosaurs can be adjusted.
JMBricklayer 70101 Dinosaur Building Block Model with Lots of Realistic Details
Head Detail

Many details of this dinosaur model are very realistic and worthy of collection.

Simulation Dragon Claw

This dinosaur model kit is great as a gift for teens and adults who will love this model!

Keel Detail

This dinosaur model is a cool display to use as a decoration in your office or room.