Bricks bring you endless joy, and this joy creates a brilliant world.
As a group of building set freaks, we all have been addicted to collecting and assembling various bricks & blocks for many years, continuously looking for creative works and drawings on various platforms to challenge more exquisite and unique works. By chance, we met each other because of the same hobby, and also found that many brick builders in the world are eager for and pursue creativity and individuality, just like us. Their needs are generally difficult to meet through existing products. One day, a bold idea occurred to John, one of our group members: we need to create our own brand. This idea made all of us extremely excited. And one year later, we started our own brand, JMBricklayer(JMB).

Just like the brand name, every founder of JMB is willing to be a bricklayer with a hardworking and down-to-earth spirit. Through efforts, we will get rid of conventional thinking and broaden the boundaries of building world to create the coolest products for builders all over the world. Like the static street scene, the dynamic RC car, the car model full of technology, the imaginative GBC (Great Ball Contraption), etc., we have never stopped pursuing the most brilliant ideas.
There is no end to the road ahead.
Excellent products
We know the pain points of builders very well, so we are committed to producing the highest quality and the most cost-effective products to meet the needs of more consumers.
After-sales service
At the same time, we will provide a perfect and efficient after-sales service system so that every builder can have an immersive building experience without any concerns.
Productive Process
To pursue the perfection of every particle, we continually innovate the production technology and strengthen the production process with the supply chain, wishing every builder to have the smoothest building experience.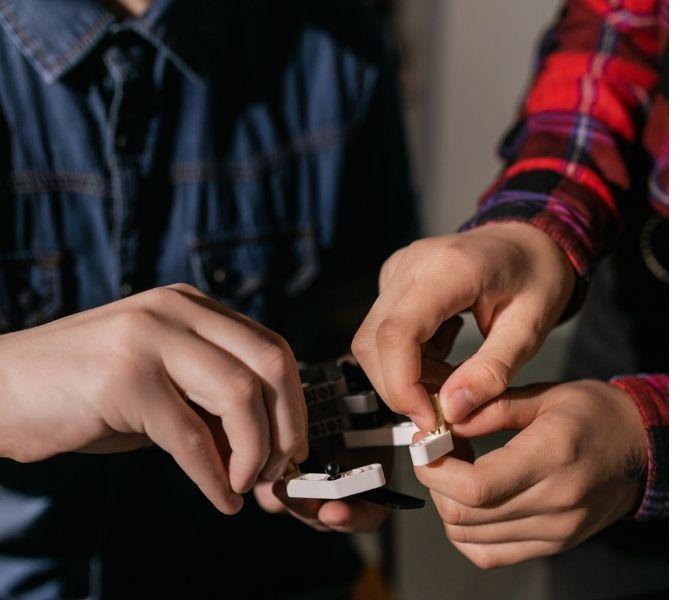 We know that our strength comes from the unremitting pursuit of quality and continuous innovation. We embrace all MOC creators and building enthusiasts, and we help them to scale up their products so that their wonderful works can be experienced by more builders and they can reap the rewards of their ideas. We also set up a strong R & D team, and continue to produce original works for builders. I hope our little stars can illuminate every builder's fantastic building dream. Whether you are a beginner or an experienced builder, JMB would like to invite every builder to join us in building a world that is full of fantastic ideas and timeless wisdom. 
Perhaps our prices aren't the absolute cheapest… We simply want to ensure that you're never disappointed when shopping with JMBricklayer!