Ever carefully lined up your favorite books on a shelf, not just for storage but to show them off with pride? Well, displaying LEGO is a bit like that. It isn't just a toy; it's a whole universe of imagination squeezed into those tiny bricks. When you put them on exhibit, it's like saying, "Hey, check out this cool story!" It would be an exclusive art show in your own space. Plus, it's super inspiring! When others see your creations, they might get that itch too.
We've categorized LEGO display ideas into walls, tables, and additional options to meet different settings or effects. But here's the deal: we'll break down each option for you—LEGO types it fits, pros and cons, how to fit into your space, and DIY potential. So, we're basically your display matchmakers!
Wall Displays
This is a LEGO enthusiast's secret to showcasing their brick-built marvels without a real estate takeover. Efficient use of space? Check. Easy on the eyes? Absolutely. It's like giving your creations a VIP ticket to the wall of fame, no velvet ropes required.
Wall Case
LEGO Types It Fits — Minifigures, small-scale sets, and Polybags sets
Pros and Cons — It's a space-saving genius, letting your collections ascend to visual glory. Also, it's like a force field protecting them from the outside world. Dust? Denied! However, it's roomy, but not boundless. And when you need a view from the back, get ready for a bit of a treasure hunt!
Fit into Your Space — When it comes to slapping up that wall case, measure that wall like it's a masterpiece, and mark the perfect spot for your collection's spotlight. Walls have different structures and materials. So, pick the right tools!
DIY Potential — Slap on some graffiti, stickers, or funky wallpapers on the backdrop of your wall case. It's your mini stage—paint it with your unique tales!
Wall Mount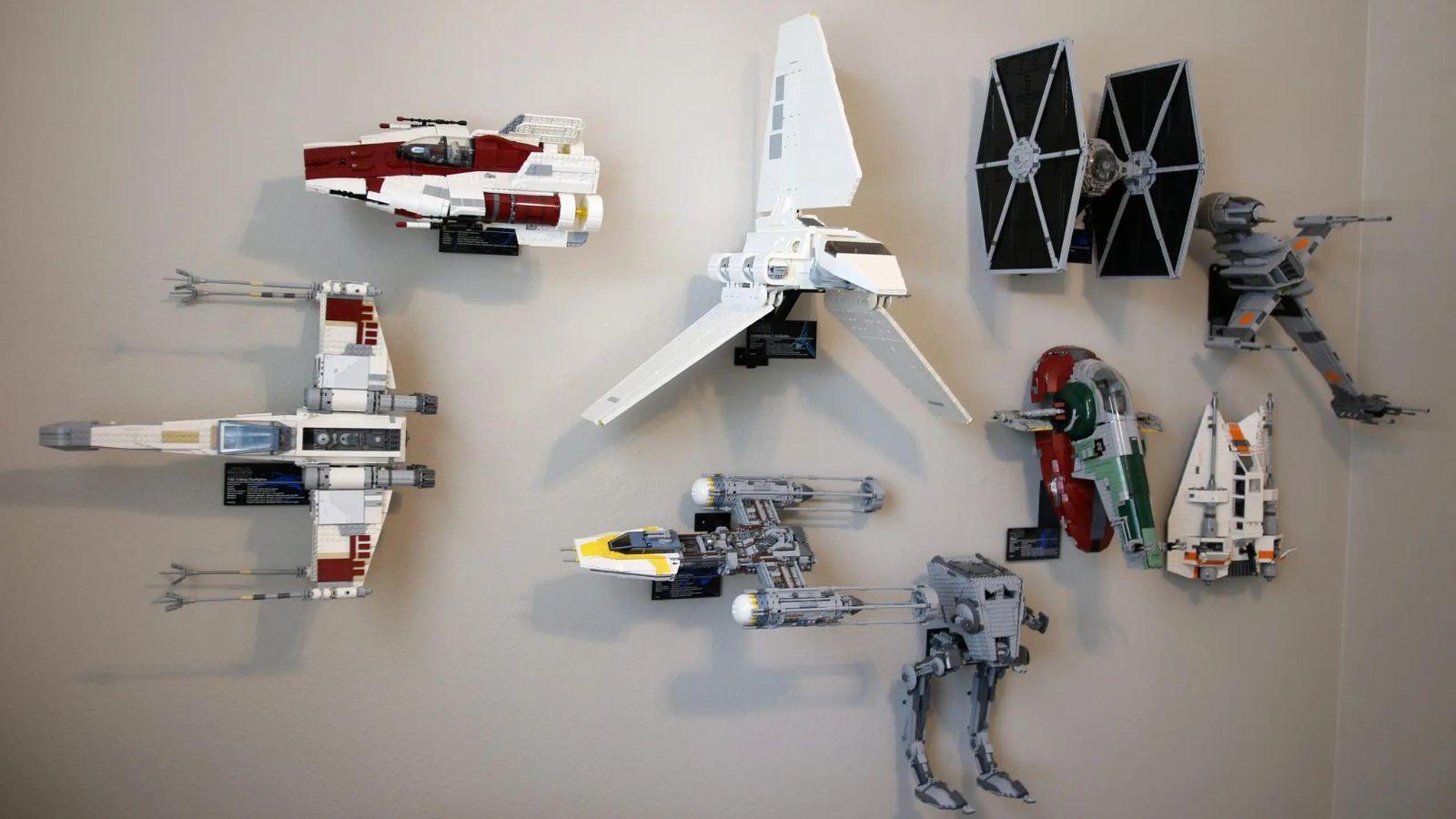 LEGO Types It Fits — Moderate-weight sets
Pros and Cons — Wall mounts make your LEGO creations pop, transforming them into mini works of art on your wall. Adjusting your display is really a piece of cake! Move and rearrange your creations on the wall whenever you want. Unfortunately, wall mounts aren't ideal for the big, weighty models.
Fit into Your Space — Balance is key – you don't want your models doing a seesaw act up there. Level it up, my friend!
DIY Potential — Elevate your wall mount with LEDs. These lights add a subtle glow, putting your models in the spotlight.
Hanging Frame
LEGO Types It Fits — Flat builds, mosaic artwork, or Minifigures
Pros and Cons — You're not just hanging LEGO models; you're curating your own gallery, showcasing your style and creativity. Cons? Let's be real—installing hanging frames is a bit tricky. You've got your manual, got your pieces, and sometimes, you need a little patience to snap it all together just right.
Fit into Your Space — Make sure there's no surprise obstacle course behind that seemingly innocent wall—no hidden wires or pipes to turn your hanging project into a plumbing disaster.
DIY Potential — You know what's awesome about hanging frames? You can turn them into a stage! Get your sets a personalized background—picture a mini city skyline for those urban sets, or maybe a galactic scene for the space-themed sets.
Floating Shelf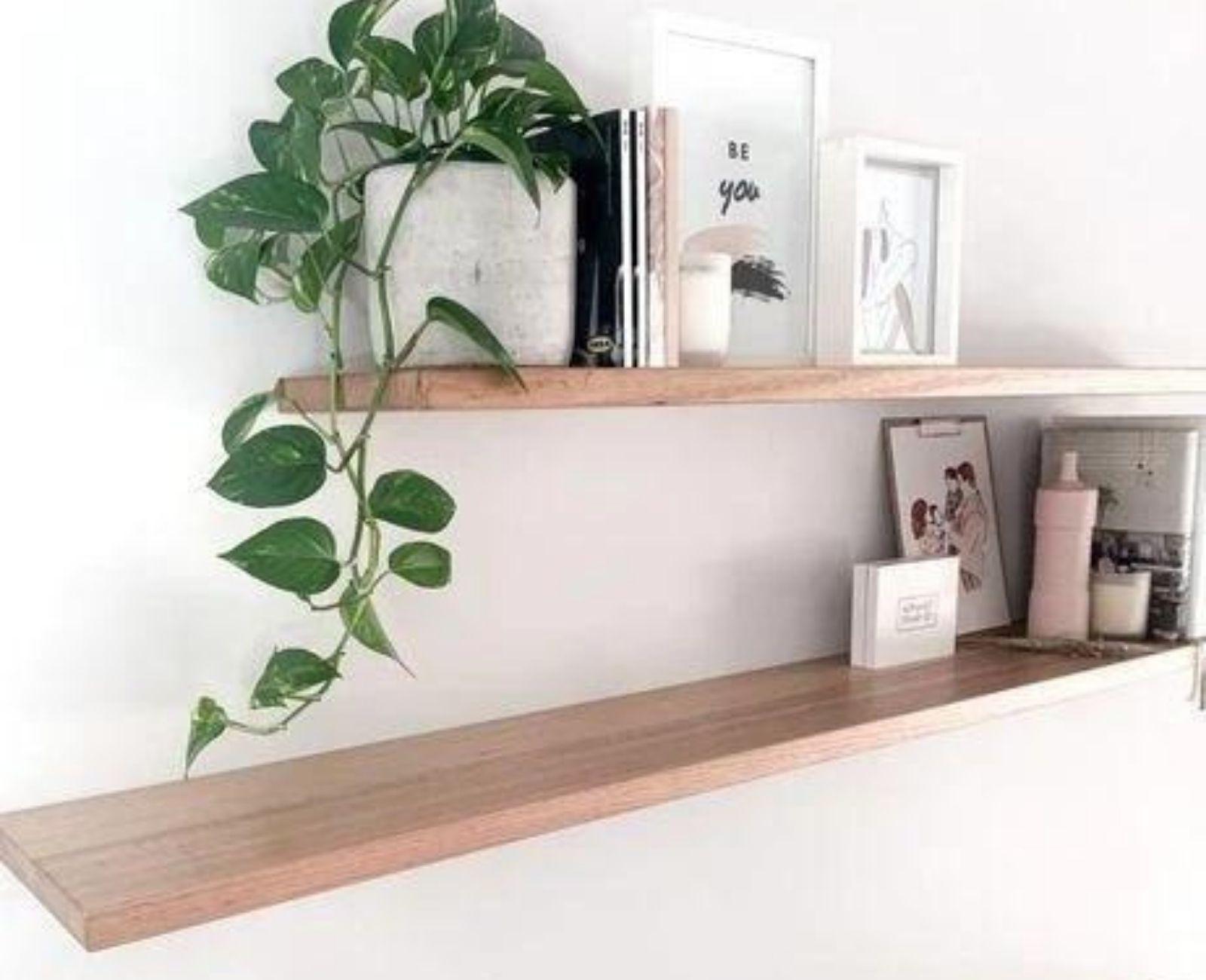 LEGO Types It Fits — All sets in any sizes
Pros and Cons — The materials won't give your wallet a workout. It's usually made from basic stuff like wood, metal brackets, or lightweight materials, without fancy components. However, the floating shelf might limit your viewing angles a tad.
Fit into Your Space — Hanging up shelves is easy, but arranging LEGO is the real deal. let's jazz it up with contrasts. Light versus dark, vibrant versus muted. Imagine Batman standing next to the Joker—talk about contrast!
DIY Potential — Imagine each plank as a puzzle piece – you arrange them, tweak their positions, and suddenly, you've got your own visual masterpiece!
Corner Shelf
LEGO Types It Fits — Small to medium-sized sets, Minifigures
Pros and Cons — Talk about a smart use of the space that's often overlooked – corners. It's like giving those neglected corners a new purpose in life. But, the challenge comes when your room has a specific aesthetic, and the corner shelf might not always blend seamlessly.
Fit into Your Space — Pick a corner, any corner, but make sure it's a rockstar – no bumping into it.
DIY Potential — Attach small magnets to the corner shelf and add metal strips to the base of your LEGO creations. They'll stick and stand like never before!
Table Displays
One of the prime advantages is clear: having your collections right in front of you. Easily observable and within reach, this setup lets you admire, touch, and tweak the layout to perfection.
Table
LEGO Types It Fits — City modular buildings
Pros and Cons — Get creative with your display! Those LEGO collections could be arranged on your desk just the way you like. But watch out for the enemy—dust! Those dastardly particles love to settle on your carefully positioned kits.
Fit into Your Space — Consider the available space in your room where you intend to place the table. Measure the area accurately to ensure the table fits well without overwhelming the space.
DIY Potential — Level up your display with a backdrop! Get crafty with cardboard, fabric, or even some artsy strokes.
Large Acrylic Case
LEGO Types It Fits –Super-sized Model
Pros and Cons — Imagine having a front-row seat to your collections! With its transparent material, this case offers a clear view of your sets from every angle. However, the high-quality, custom-made, or specially designed cases don't come cheap.
Fit into Your Space — Know your sets' dimensions! Get cozy, not cramped, in that exhibited case. Measure twice, display nice!
DIY Potential — Give your LEGO buddies their own badges – a little tag sharing their model's name or backstory.
Angled Stand
LEGO Types It Fits — Flying Vehicle Sets
Pros and Cons — Adding that "hovering" illusion to your model? It's like giving it a touch of magic, making it all the more captivating. But, the stand, as cool as it is, can't handle heavyweight items.
Fit into Your Space — Before you pick a stand, be a weightlifter for your Lego sets. Check those muscles—how hefty are they?
DIY Potential — Design a stand with multiple levels, it could allow for efficient use of space and create an eye-catching effect.
Glass Dome
LEGO Types It Fits — Micro Landscape Models
Pros and Cons — The glass dome makes it look fancy, like a special display. It adds to how cool the model appears, making it more attractive. However, Glass can break easily. Accidental bumps might break the glass, and that won't be fun.
Fit into Your Space — Regular cleaning is your glass dome's best friend! Just like giving your car a good wash, always keeping that glass spick and span.
DIY Potential — Add LED strips or mini bulbs at the dome's base for a unique lighting effect. Play with colors to match your LEGO model's style.
Rotating Stand
LEGO Types It Fits — Complex and detailed sets
Pros and Cons — Let the audience soak in all the awesomeness from every possible view, just like a fancy model runway. On the other hand, like a sports car needing that extra tune-up, the rotating mechanism might demand some love and maintenance.
Fit into Your Space — Test the stand's rotation functionality to guarantee it turns smoothly without noise or interruptions.
DIY Potential — A multi-tiered rotating stand is a fantastic choice. Each tier can be dedicated to a specific theme, era, or even color scheme.
Additional Options
Here are some additional methods. They're listed here because they're not on walls or tabletops, and some are a bit less common.
Glass Cabinet
LEGO Types It Fits — All sets in any sizes
Pros and Cons — A glass cabinet is like a LEGO bodyguard. It shields your creations from dust and unwanted touches while showing them off crisply through transparent glass doors. But this VIP treatment comes at a cost – glass cabinets can be a bit pricey, especially the fancy ones.
Fit into Your Space — Opt for sturdy options like stainless steel or aluminum frames paired with toughened glass.
DIY Potential — Shed some light on those awesome models! Install some cool LED strips or tiny bulbs inside the glass cabinet.
Ceiling Mount
LEGO Types It Fits — Light or medium-weight models
Pros and Cons — Maximizes vertical real estate, keeping your floor for more important things. Also, draws attention and leaves everyone gawking at your hanging display. However, hanging your kits is not an easy task! Requires a safe and sturdy setup.
Fit into Your Space — Select the right brackets and hooks. They should provide secure support and stability to ensure the model stays safely suspended.
DIY Potential — Use multiple rods for tiered presentations, adding depth and visual appeal. In addition, it makes a good idea to add colorful ribbons, mini flags, or pendants for a playful touch and personalized display.
Conclusion
When you're looking for any display ideas for your lovely sets, the right showcase is like a frame to a masterpiece. So, explore, experiment, and find what resonates with you. Let your LEGO stories find their stage, be it on a shelf, wall, or suspended in the air.