Get ready for an exciting month ahead! As we move into March, JMBricklayer is pulling out all the stops with a range of fantastic deals and campaigns that are guaranteed to get you excited. Whether you're looking for unbeatable discounts, fun challenges, or exclusive rewards, we've got you covered. Here's a sneak peek of what's coming up this month:
Looking for unbeatable deals all month long? You're in luck! Check out our March Madness Sale for incredible discounts on select sets.
Get 35% off on our 3D Frame Dinosaur 70106. This fierce-looking dinosaur will add a touch of excitement to your home decor. Its realistic head and movable mouth make it an impressive sight to behold.
Take advantage of our 35% discount on Spaceman 70102. With over 20 movable details, this building block set offers endless possibilities for creative play. The flexible ball joint blocks allow for free movement and can be used to create a variety of shapes.
Get 30% off on our T-Rex Dinosaur 70107. This two-color mechanical dinosaur toy is sure to impress with its cool brown and gray color scheme. Its realistic design and impressive features make it a must-have for dinosaur enthusiasts.
Discover amazing deals at our Online Store
Shop with ease on our Amazon Storefront
Don't miss out on our March Madness Sale from March 1st to March 31st!
Get ready to save big on our building block sets this March! From March 1st to 15th, enjoy amazing discounts on a wide range of products: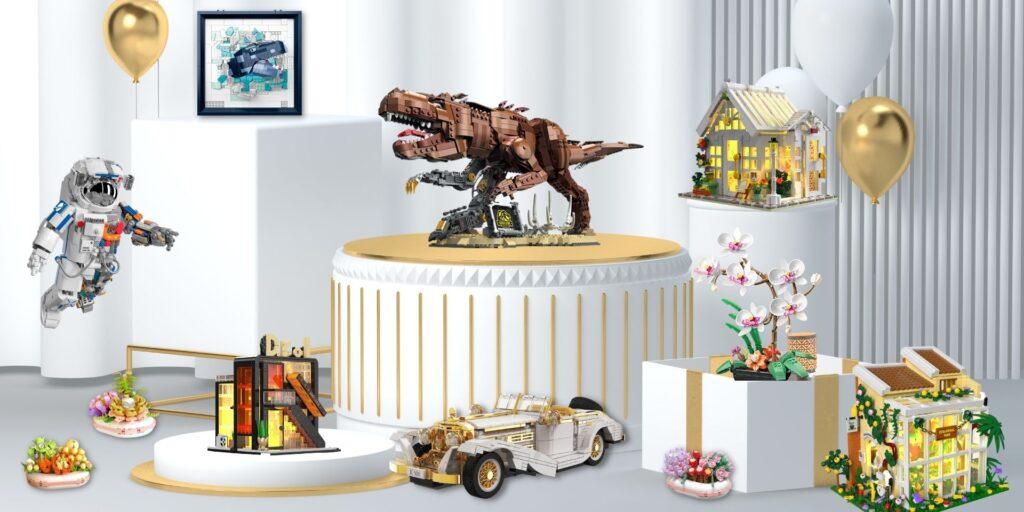 Enjoy savings of up to 25% on our Flower Series, Building Series, Classic Car Series, and more!
Discover amazing deals at our Online Store
Shop with ease on our Amazon Storefront
Hurry, these deals won't last long!
Late March Savings
From March 16th-31st, stay tuned!
Attention all movie and dinosaur lovers! Get ready for our epic giveaway based on the thrilling sci-fi movie 65.
We're giving away our 3D Frame Dinosaur 70106 and T-Rex Dinosaur 70107. The 70107 set is the same one featured in the movie, with its impressive design and cool brown and gray color scheme. Don't miss your chance to win this must-have collectible for dinosaur enthusiasts. Enter for your chance to win between March 8th and 15th!
Guess the Weight to Win Big
Are you good at or interested in guessing the weight of objects? If so, you won't want to miss our latest giveaway!
The prize is our incredible Spaceman 70109 set, featuring a stunning color scheme and meticulously replicated spacesuit designs.
The three lucky winners who can guess the closest weight of the 70109 set will take it home. Don't miss your chance to win this awesome prize and put your guessing skills to the test. Join us from 25th to 31st March!
Get ready for an exciting mail-in rebate promotion this month! Simply purchase our product and provide purchase proof to receive a 100% refund in 1-3 days.
One of our offers is none other than our very own, self-designed Medieval Weapon 30001, allowing you to build not one, not two, but three different model toys – the Ballista, Catapult, and Bombard. Each kit is rich in historical stories and sure to provide hours of fun. The rebate offer is available to the first 10 customers who submit a valid rebate form.
Another offer we're also providing is 6 sets of Spaceman 70109, featuring a stunning split design and semi-transparent layer, and is sure to transport you to another galaxy.
With 16 eligible participants and a 100% refund, you won't want to miss out on this opportunity. Mark your calendars for March 8th to 15th and participate now!
New latest release survey
We want to hear from you! We're excited to announce our upcoming new release survey, taking place in the second half of this month. Your valuable feedback will help us improve our products and services to better meet your needs. Stay tuned for more details on how to participate and have a chance to win exciting prizes!
Hurry up and take advantage of these incredible deals before the month is over! JMBricklayer hopes you enjoyed our March deals and campaigns, and we look forward to bringing you more exciting promotions in the future.