JMBricklayer is thrilled to unveil its latest offering – the Money Tree Set 20008. This distinctive creation is tailor-made for adults who love building brick sets and appreciate botanical beauty. Our in-house innovation showcases our commitment to providing exceptional building experiences, and this set stands as a testament to that dedication.
Overall Impression
The large pot is square and white, and inside, the roots are buried in grayish-yellow soil. The twisting trunks are mature and sturdy. With their wood-like texture and variegated shades of brown, they add depth and authenticity to the color scheme. However, it's the vibrant green of the branches and leaves that truly steals the show. The leaves, vibrant in color, are skillfully and lifelike arranged on the branches.
Symbolism and Significance
The Money Tree, scientifically known as Pachira Aquatica, is a tropical plant native to Central and South America. Characterized by its braided trunks and lush, palmate leaves, it is renowned for its distinctive appearance and cultural symbolism.
Financial Prosperity: In many cultures, the idea is that by cultivating a Money Tree, one is nurturing their wealth, encouraging it to grow over time. The branches of the tree, laden with symbolic currency or coins, exemplify the hope for a fruitful and prosperous future.
Symbol of Luck: The Money Tree is considered a lucky charm in several cultures. It is believed to attract good fortune, helping individuals to not only accumulate wealth but also safeguard it from misfortune or financial setbacks.
Feng Shui and Energy Flow: In Feng Shui, the Money Tree is employed to enhance the flow of positive energy, or chi, in one's living or working space. Its vibrant green leaves and symbolic wealth elements are believed to promote harmony and balance.
Detailed Representation
The Pot
Utilizing Lego-compatible bricks, the square pot design offers a modern aesthetic with interlocking plates and textured tiles mimicking ceramic or porcelain. Beyond visual appeal, it ensures stability for the entire plant set.
The Trunks
The core structure relies on trunk elements and connectors, sometimes integrating flexible hoses for natural curves. Variegated shades of brown bricks replicate tree bark, employing sturdy Technic pins for stability.
The Branches and Leaves
Long Technic pins achieve branch straightness with gentle movement, emulating natural sways. Leaf elements reflect Money Tree foliage in varying shades of green, arranged naturally and interspersed with playful $100 banknotes, evoking symbolism and engagement.
Get Yours Now
Available for purchase starting October 10th, you can get your hands on this exclusive set either through Amazon US or directly on our website. Don't miss out on the chance to nurture creativity and cultivate joy with our new release, the perfect holiday gift for families or friends!
Amazon US:
JMB Website:
$44.99
Free Worldwide Shipping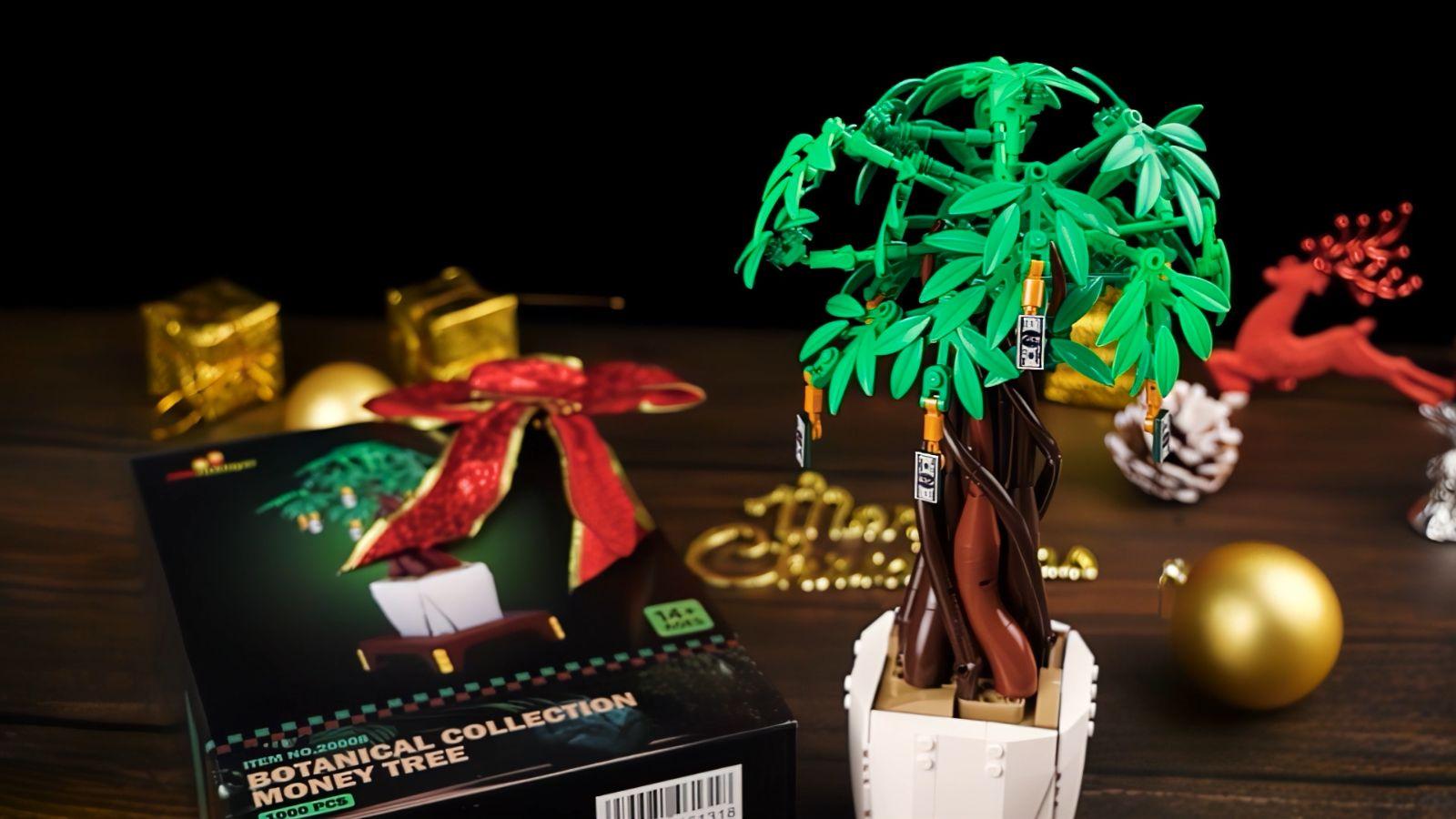 Conclusion
In the end, JMBricklayer thanks all who took part in our recent new product survey. One lucky participant will be chosen and receive one Money Tree Set for free. Everyone else will also get an exclusive 20% discount code via email. Again, thank you all fans for being a part of this exciting journey to witness our new set arrive. Stay connected with us for more updates and surprises. Happy building!