As China's toy industry flourishes, numerous standout Lego alternative brands are emerging, and JMBricklayer is certainly among them. We aim to leverage China's manufacturing advantages to bring affordable and high-quality brick sets to the globe. Our mission has always been to offer creativity, quality, and fun, and our upcoming product will stay true to this, delivering more surprises and satisfaction to you.
Puppet Show 70002: Iconic Appearance
Our new brick set features the most iconic characters from fairy tales, a chubby-faced little boy, dressed in red overalls and a yellow shirt. He sports a yellow hat with a red feather and a blue band and possesses a nose that stretches with each untruth. The story it brings to life also carries the memories of generations' childhoods.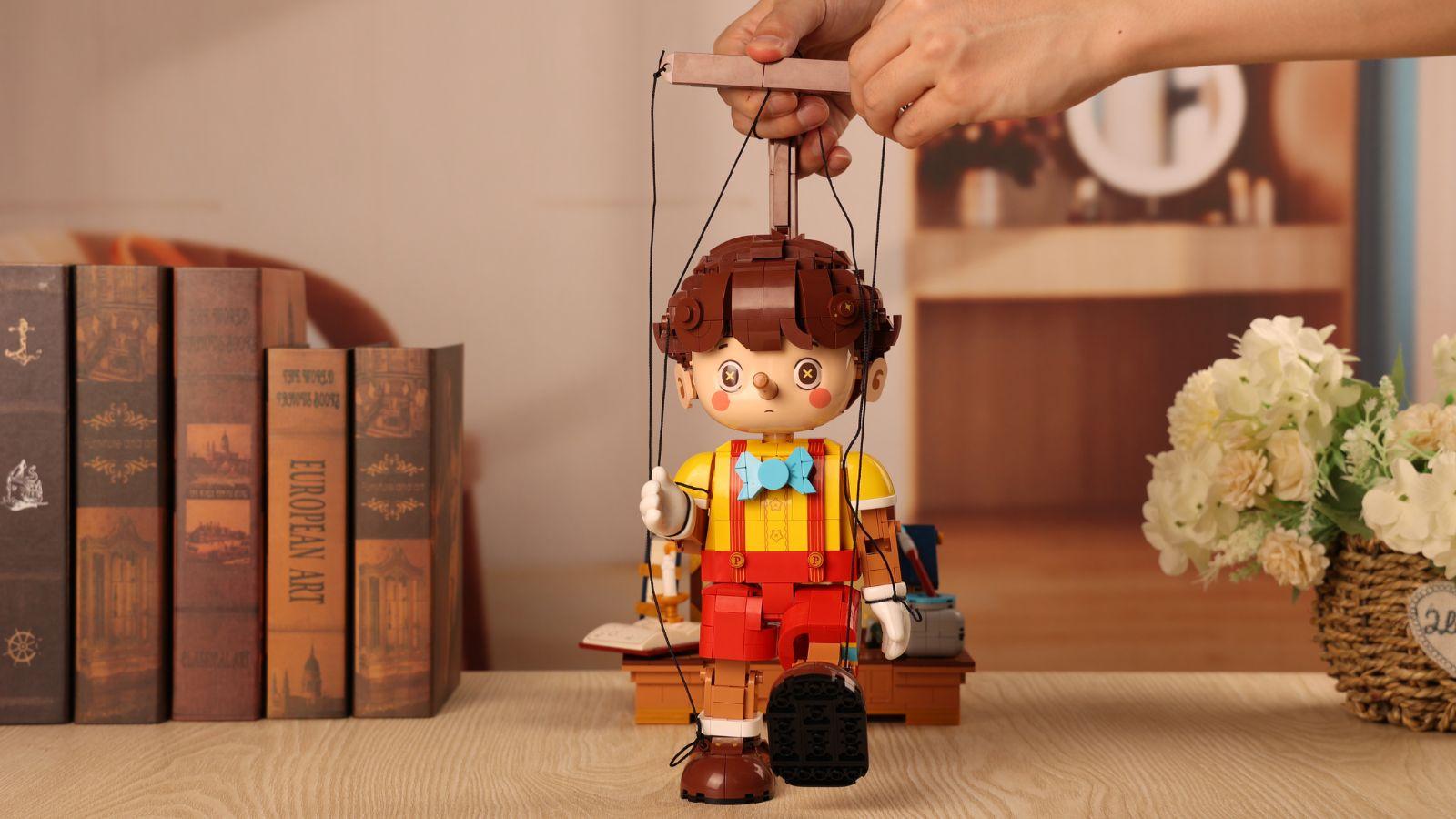 The Widely Known Story
This 70002 set comes with a familiar backstory: In a whimsical village, a woodcarver wished upon a star, and crafted a lively puppet boy. He embarked on adventures, including encounters with a talking cricket and venturing into a nearby town. Along the way, his nose grew longer whenever he told a lie. Finally, the boy learned life lessons, desiring to become a real person. This enchanting tale is a timeless story of transformation and the power of believing in one's dreams.
Product Features at a Glance
String-controlled Limbs: With the string-controlled mechanism, the puppet's limbs come to life. You can manipulate his hands and feet with ease, creating various dynamic gestures.
Glowing Miniature Theater: As the lights come on, deep red curtains are drawn on both sides. In the center sits a small wooden puppet, poised and eagerly waiting to awaken.
Extendable Nose: The puppet's nose is detachable, and you can switch between a long and short one, just like in the iconic tale where his nose grows longer with each lie.
Fairy-tale Like Base: The base has a cream treasure chest at the center, flanked by the puppet's weathered textbook on one side and the woodcarver's clock tower on the other.
Purchase Links
With so many unique features, it makes a great holiday gift. We believe you can't wait to grab one for your boys and girls. Starting 13th Sep, this set will be available at JMBricklayer's stores. Hurry and bring home the adorable puppet!