Description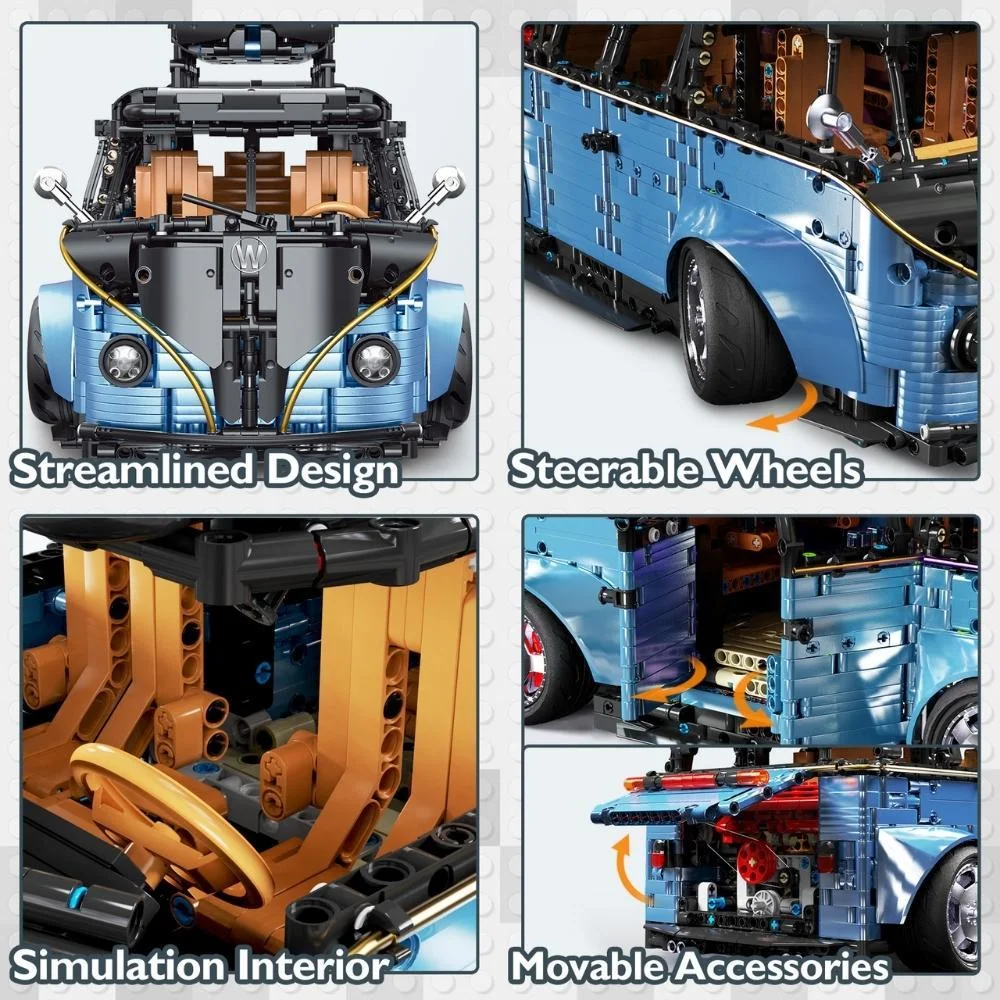 【Classic Bus Set】: JMBricklayer camper van bus building kit consists of 3,299 high-quality blocks, built to completion is a size of 19.49in(L)x8.86in(W)x9.65in(H), the color atmosphere and exquisite appearance of the classic bus car model. It is not only a mini caravan toy with rich equipment, but also a great travel vehicle model, and the whole shape looks cool. In addition, our construction toy sets also come with colorful instructions that can help you complete the assembly more smoothly.
【Creative Vehicle Toys】: Our bus design restores the real vw T2 camper van, from the beautiful interior to the appearance of the design, all the characteristics of the bus car to show the best. The color of the bus is composed of black and blue, and the exterior is a textured electroplated metal paint design. The front of the bus has a "v" shape design with a hose, and the roof has a travel box that can be opened. In addition, the doors and rear cover can be opened manually, looks very fun.
【Ideal Model Gifts】: This vehicle model is a square and lovely van style, the overall style classic, is an ideal model toy gift for teens and adults. Car toys not only steering linkage, the engine also has linkage function. And you can additionally buy the required power components(motor, lithium batteries and remote control) to convert it into a dynamic car. Overall, this bus is very playable and has a cool look. You can use it to spend your spare time or enjoy the fun of game with your family.
【Decoration & Collection】: This technology-filled car is great as a decoration, it is both a representative of a classic car and a cute and cool T2 modern classic mini van. It will be very eye-catching as a decorative item for your office or room. And it is also a very classic collector's car, can be matched with other car models, if you have a study of bus cars, or a cool car lovers, then this car is worth you to have. You can take it back and take your time to explore more of its playability.
【After-sales Service】: If you are not satisfied with your purchase or have any problems after receiving the adults car kit, please contact us and we will provide you with a solution or process a refund. In addition, our products are strictly inspected by the machine before sending to you, but if you find that there are still pieces missing from the kit after receiving the product, please do not worry, you can contact us first, we will send you the missing pieces for free.
JMBricklayer 60125 Bus Building Kit – Build Your Own Bus Model with 3299 Blocks
JMBricklayer city bus is a unique design, highly restored to the real car vehicle model. There are very many attractive things about this car, and if you are a person who likes collecting vehicle models very much, then this bus is a good choice.
Creative Designs
Exquisite Decorations
Perfect Gift
Simulated Tires
Steering Wheel Linkage
Engine Linkage
Openable Suitcase
JMBricklayer City Bus Vehicle Model Has Very Much Realistic Details
This bus vehicle model is an ideal gift for teens and adults, and you can enjoy building block games with your family and friends in your free time.