Description
【Beautiful Bouquet Set】: Our orchid block set contains 581 quality blocks, you can use them to build your own never-ending flowers, which will be a romantic thing. In addition, you do not have to worry about assembly, our package comes with colorful instructions that can help you more easily identify each block and complete the assembly successfully. This bouquet is suitable for girls or adults who love flowers, but also for beginner builders, it is easy to get started.

【Creative Bouquet Design】: Butterfly orchid bouquet design inspired by real flowers, white petals, and pink butterfly stamens are very realistic, setting off the gentle elegance of the orchid. And the rhizome can be adjusted in any direction, plus the decoration of green leaves and small flowers next to the root, makes it look more vibrant. In addition, it comes with a black square planter that can be placed wherever you want when assembled to add atmosphere to your home or office.

【Chic Butterfly Stamen】: The stamen of our adult bouquet is in the shape of a pink butterfly, and the stamen can be rotated 360°. The orchids as a whole look simple and elegant, revealing the gentleness, clean and elegant nature of women, and perfectly interpret the beauty of women through the art of bouquets. If you want to add something interesting to your life, it is worth having, and you can enjoy assembling it with your family or lover.

【Meaningful Gift】: Girl's gift. This orchid is perfect as a gift for your girlfriend, wife, elders, or female friends, you can give it to them on their Birthday / Valentine's Day / Dating Day / Anniversary, and other special holidays, and of course, you can give it to yourself. The Building block bouquet set can improve logical thinking and hands-on skills, and the orchid bonsai is also very suitable for home or office decoration, you will feel happy to see it!

【After-sale Guarantee】: After you receive our product, if you find any problem with the product, you can contact us and we will provide you with a solution or process a refund. In addition, our products are shipped after strict inspection, so you can use them with confidence. However, if you find that there is a missing part after receiving the product, please also contact us and we will send you the missing part free of charge.
JMBricklayer 20106 Orchid Flower Plant Bonsai Building Block Kit
The JMBricklayer orchid bonsai building block model kit includes 581 high-quality building blocks and colorful instructions.
The orchid culture originated in ancient rome and can be traced back to greek myths and legends, with a long history.
The flower language of orchids is warm, confident, elegant and beautiful. I hope you are as confident and beautiful as orchids!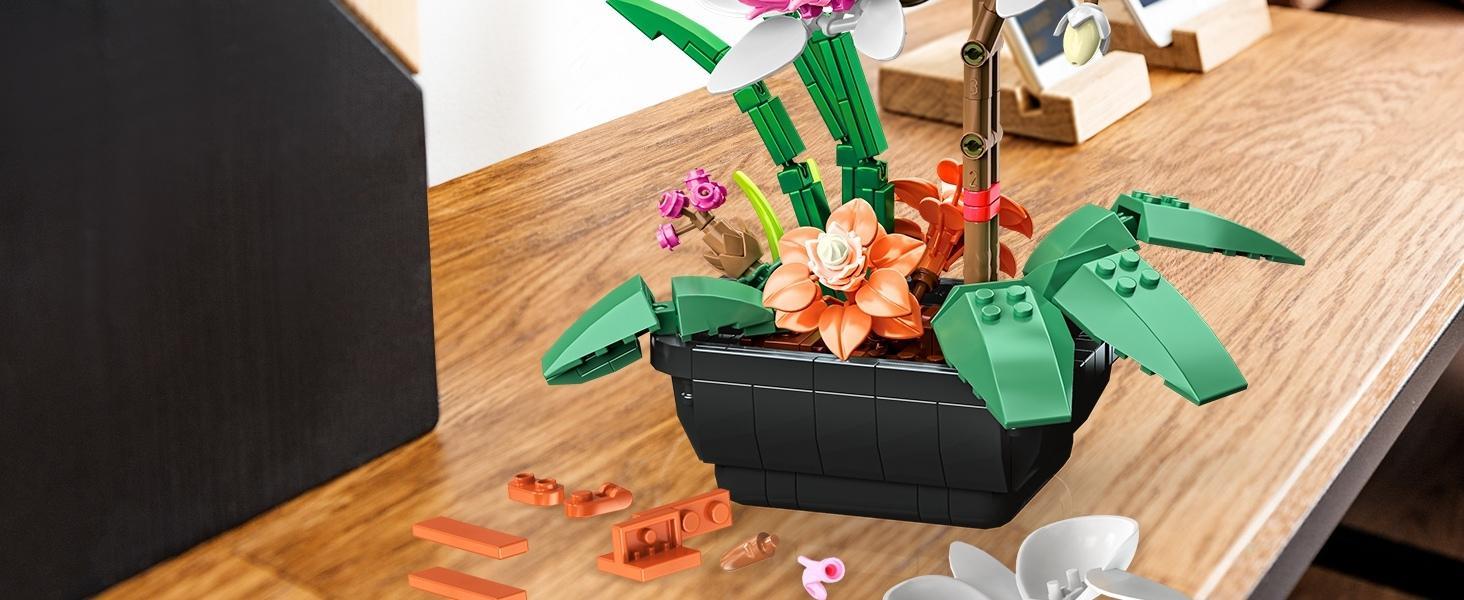 The orchid building block model with gentle color and elegant and delicate
Our orchid bouquets have many movable and realistic details:
Rotatable parts

: both petals and stamens can be adjusted by 360° rotation.

Adjustable parts

: the flowering branches of orchids can be adjusted at will according to preferences.

Decoration details

: the green leaves and small flowers at the roots make the orchid more aura.

Exquisite pots

: black square pots with white petals and pink stamens look extra refined and elegant.
Room Decoration

Elegant and delicate, orchids are a favorite of girls and women. It's perfect as a home, office, room, or other place decoration, adding more romantic art to your life.

Office Decoration

Flowers represent your thoughts for your family, your concern for your friends, and your love for your lover. You can give them as a gift on some special day, it's a romantic thing!

Leisure Place Decoration

The block flower never fades, it's a timeless beauty, and building blocks is a lot of fun and helps you focus. You can build orchid models in your spare time to enrich your life!
Build Your Own JMBricklayer Orchid Building Block Model and Enjoy Building Games