Description
????【VIVID GREEN LED LIGHTING】 Equipped with 9 green LED beads, simply connect the power source to turn on the lights, infusing the model with a peculiar and enchanting green radiance, and creating an immersive mysterious atmosphere. But it's not just about the lighting – our pirate ship's side stickers also incorporate a glow-in-the-dark design, adding to the effect. In the darkness, it glows in harmony with the ghost ship's lights, creating a truly astonishing visual spectacle.

????【CAPTIVATING GHOST SHIP EXPERIENCE】Relive legendary tales, explore the enigmatic pirate seas, and embark on an adventure inspired by the Flying Dutchman ghost ship. Enjoying an unparalleled creative and building experience as you recreate this ghost ship that can never dock. This pirate ship toy building set offers modeling enthusiasts and pirate aficionados an extraordinary assembly and display experience.

????【THE PERFECT GIFTS FOR ANY OCCASION】Whether it's a birthday, a special event, Halloween, Christmas, Easter, or any other holiday, our model ship makes the ideal gift choice. Surprise your loved ones or prepare something special for the kids. Our pirate ship model building kits boast exquisite design and unique lighting effects that will leave a lasting impression. Suitable for boys, girls, and adults ages 8, 9, 10, 11, 12, 13, 14 and above.

????【ONE-OF-A-KIND MODEL SHIP COLLECTIBLE】The JMBricklayer's original pirate ship brick set is unlike anything else out there, making it a prized possession for collectors. Display it with pride in your home or office, showcasing your taste and uniqueness, drawing all eyes to this fantastic brickwork. This whimsical creation also serves as an extraordinary decoration, adding intrigue and mystique to any environment – truly the star of your home decor or office decor.

????【INFINITELY CREATIVE BUILDING TOYS】JMBricklayer ghost ship promises endless fun, allowing you and your family to handcraft this grandiose brick ship and create beautiful memories. Beyond the excitement of the modeling process, model kit fosters problem-solving skills, hand-eye coordination, and creative thinking. Suitable for older children and adults, it's a versatile source of enjoyment and growth.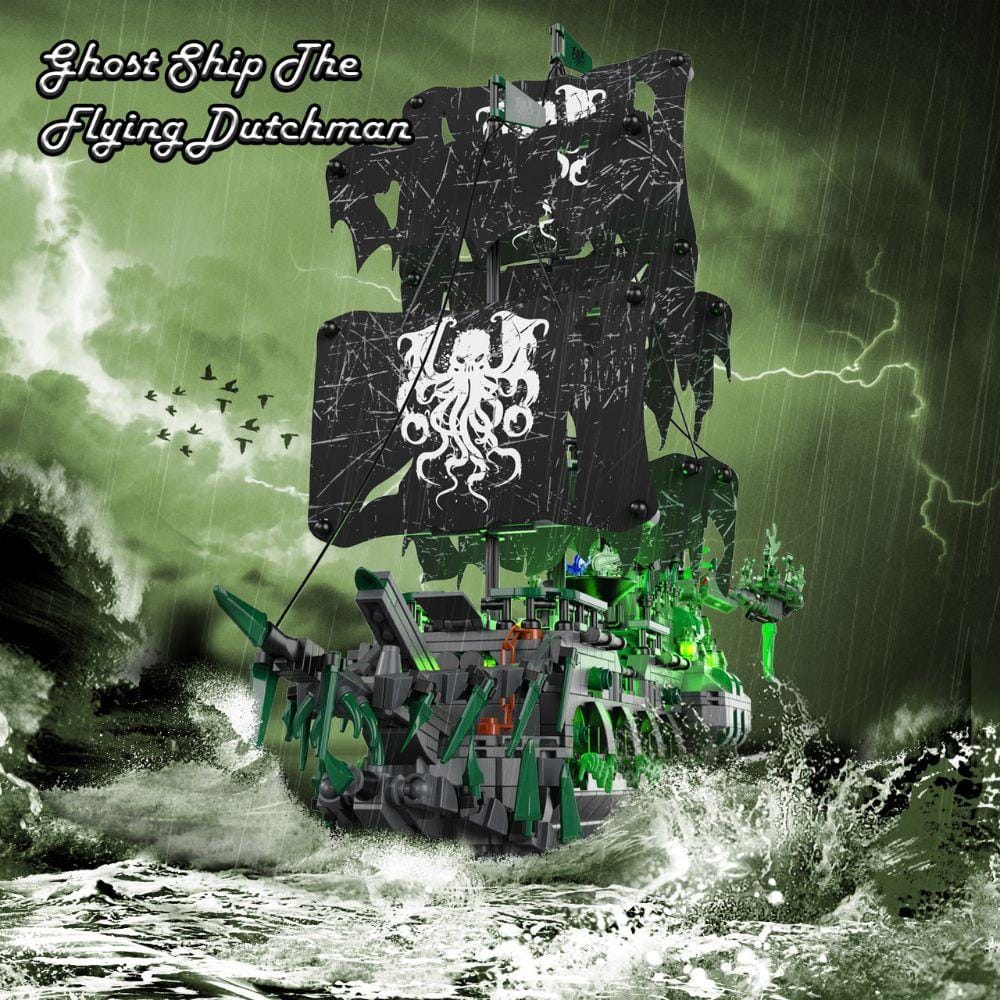 JMBricklayer Pirate Ship
Immerse Yourself in the Glowing World of Pirates
Craft your very own, unique pirate vessel that radiates an enigmatic glow by personally installing the lights during the assembly process