Description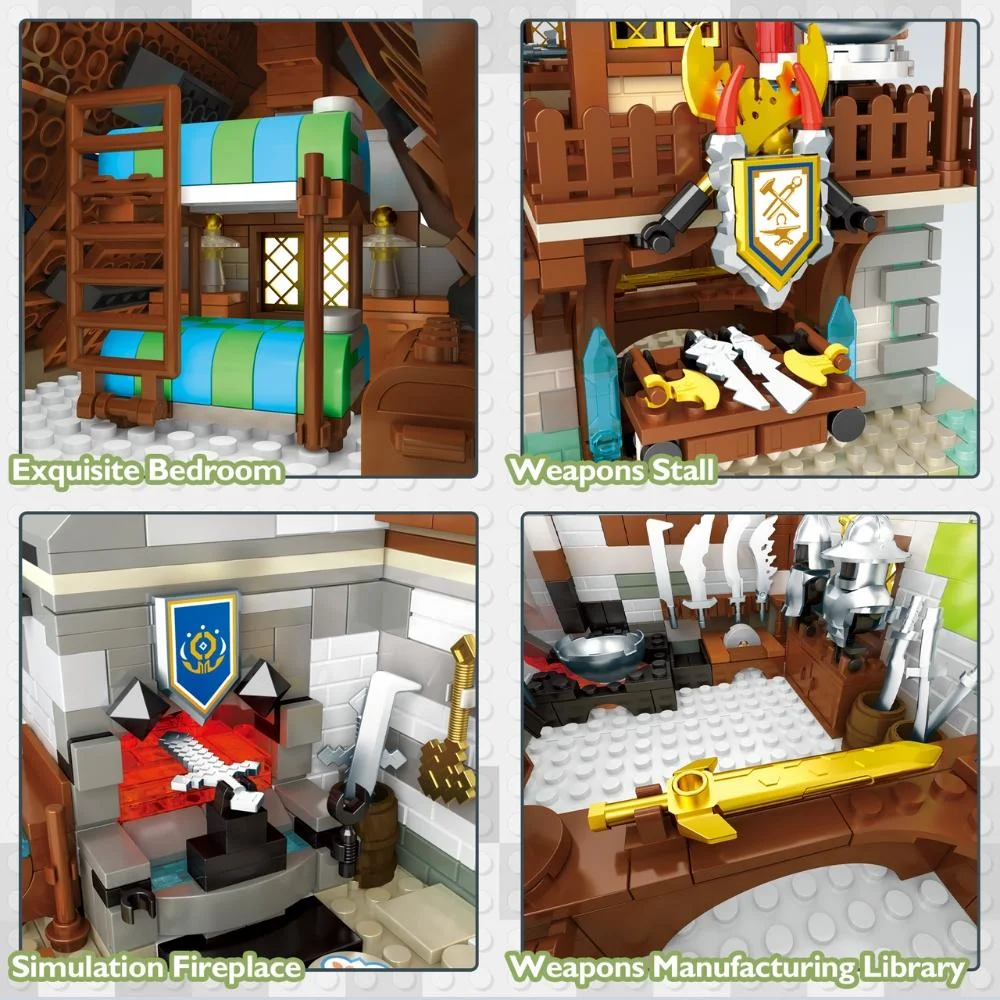 【Exquisite House Set】JMBricklayer medieval blacksmith store model with retro with cleverly restore the characteristics of medieval architecture. This construction toy is rich in many realistic elements, both inside and outside. And the interior of the house contains a lot of weapons and equipment, including a wide range of weapon stalls, cool weapon forges and weapon storage rooms, fully reflecting the style of the blacksmith store. It is a challenging building project worth experiencing.

【Creative Lighting Design】Our blacksmith store toy contains lighting design, its first floor furnace with lighting, realistic reproduction of the scene of weapons forging. And the whole building is a layered quick release structure, the roof is designed for quick release, providing a convenient way to build and disassemble. The house toy also has a lot of details, its doors and windows can be opened manually, and, there are exquisite bedrooms. It is perfect for lovers of street view models.

【Decoration & Collection】An architectural model with lighting design deserves to appear in your life, it is perfect as a delicate decoration for your room, office or any place to add more fun to your living space. And with its vintage styling, it will be a highly collectible piece of streetscape model and take a place among your many castle models. If you like challenging projects, then you can give it a try, and the moment you finish building it, you will have a great sense of accomplishment.

【Enjoy the Game】The adult house set consists of 2366 high-quality blocks and comes with detailed and easy to understand instructions that can help you easily complete the assembly. This house toy can take you to fully appreciate the style of medieval architecture and immerse yourself in the atmosphere a medieval town shop. You can play role-playing games with your family and friends to enjoy endless hours of fun, and building blocks help stimulate creativity and promote hand-eye coordination.

【Ideal Gift for Adults】This street view model kit is a perfect gift for teens and adults, you can give it to your family and friends on birthdays, Christmas or some special days. If you are interested in topics such as weapons and architecture, this medieval toy is the perfect choice. It can not only satisfy your experience of building architectural models, but also browse a variety of weapon models. Also if there is a problem with missing pieces, please contact us for free replacement parts.