Description
【Flower House Kit】: Our flower house kit consists of 1593 high-quality building blocks, and the finished size of the entire greenhouse flower house model is 8.19in(L) x 6.30in(W) x 7.48in(H). This house toy model is an ideal street view construction model for girls and women, you can use these building blocks to build your own indoor plant garden, which is a very romantic thing. In addition, our house kit comes with colorful instructions that can help you complete the assembly more easily.

【Creative House Design】: The white house building, with a simulation of glass room design, makes the whole house look like a beautiful castle. The flower house toy has many plants and bouquets on display, and the door can be opened manually, which restores the layout of a real flower shop. In addition, the indoor lighting design makes the house warmer. It can also be unfolded from the middle to become an open flower store. All in all, this is a very beautiful floral art architecture.

【Ideal Gift for Girls】: The toy flower house can satisfy every girl's longing for a flower store, and you can watch and experience the joy of owning a flower house with exquisite decoration at home. And the street view kit is a perfect gift for adults and an ideal gift for girls and women. You can give it to your family and friends on their birthday, Christmas or some special days. Of course, you can also build toy models to enrich your spare time and open up a new world of building block toys.

【Fun Role-playing Games】: Greenhouse toys are a good choice for role-playing games, and it is also a friend set, which can not only meet your pursuit for the exquisite design of building models, but also enjoy the fun of playing with friends, and experience the romance of running a flower shop. It would be perfect if you have some other house models, such as a treehouse or a coffee shop. You can use them to create your own streetscape game scene in your spare time, which will be very fun!

【Exquisite Decoration】: This house model is suitable as a decoration for the office, home, or room, making the space warmer. You can also display them in a glass case as a collectible. And if you find any problems after purchasing our products, please contact us. In addition, our products are sent to you after the machine is strictly inspected, but if you find that there is a missing after receiving the product, please also contact us and we will send you the missing pieces free of charge.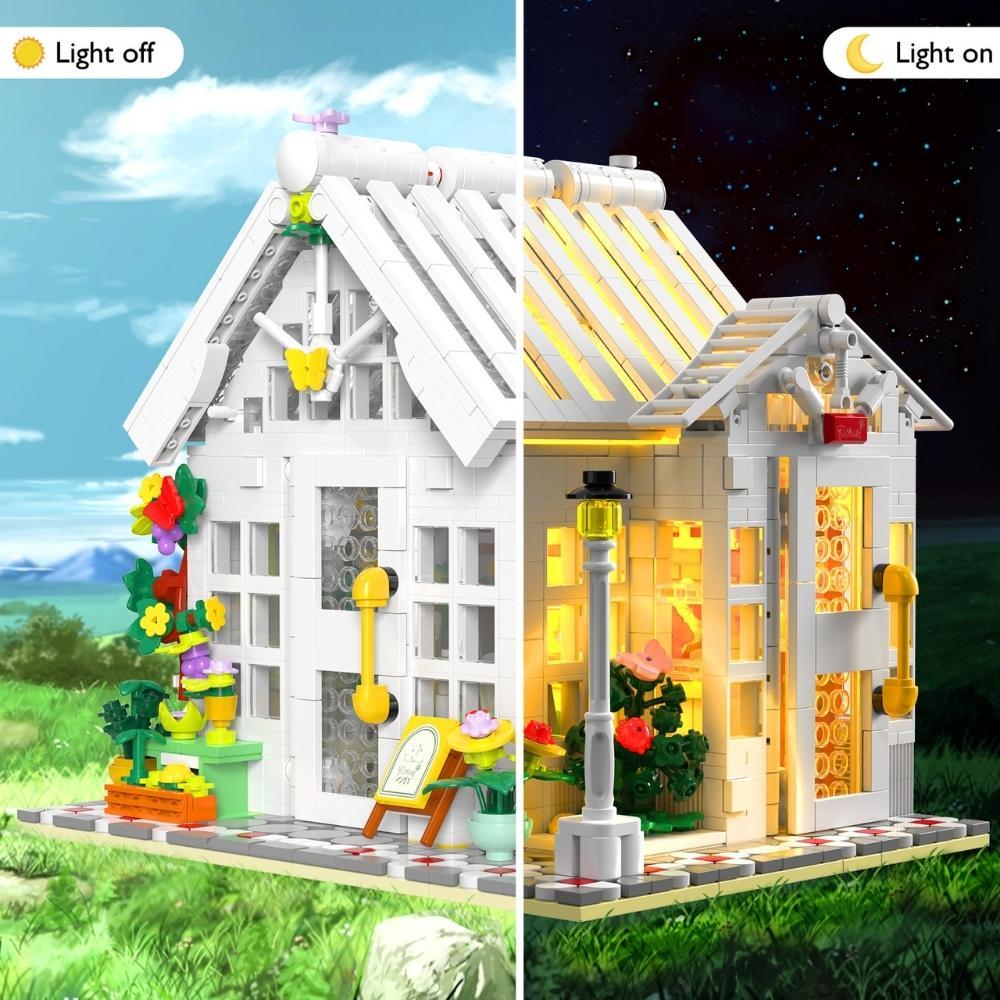 JMBricklayer 21101 Flower House Kit – Build Your Own Home Model with 1593 Blocks
The flower room building takes you to explore the secrets of the flower store, white building with colorful small decorations, looks beautiful and romantic, is a girl's heart aspires to the princess flower room, very exquisite and beautiful.
An exquisite display
This flower house model is perfect as an office or room decoration.
Beautiful Light Design – Charming House at Night
JMBricklayer House Has Very Much Realistic Details
Complete Equipment & Realistic Scene Building
The interior of the entire flower room is beautifully built, very realistic to restore the atmosphere of a real flower store, and very well equipped.
Exquisite Interior & Romantic Flower Room
Flower room interior exquisite, realistic design details, very good to show the characteristics of the flower store, is a house set worthy of girls.
Perfect gifts for teens and adults
This set is the perfect gift for teens and adults, and an exquisite gift that every girl favors.