Description
This JMB Spaceman kit pays tribute to the great astronauts. In recent years, science fiction movies and various achievements in human spaceflight have increased our knowledge and interest in space. At the same time, the image of astronauts is also deeply rooted in people's minds. This creative space brick set gives you a brand new building experience.
Rich in detail:
The mechanical structure of the left side is very detailed, and the color matching of various small parts is also wonderful.
The electroplated helmet is so reflective that it looks like a mirror.
The astronaut can stand independently or be fixed on the support platform. The support platform and the body are connected by a cross axle and hole for easy disassembly.
There are no stickers in the whole set, and all the patterns and words are displayed in printed pieces whose effect is great.
Full of playability:
The design that half of the mechanical structures are displayed is aesthetically pleasing and also adds more fun to the building process.
The legs and the hands are connected by large and small spherical joints respectively. So you can adjust its hands and legs at different angles.
The fingers of both hands are movable, and you can even make a "yeah" gesture with it's hand.
The helmet and the lights on both sides of it are also connected by spherical joints, so they can be adjusted at will.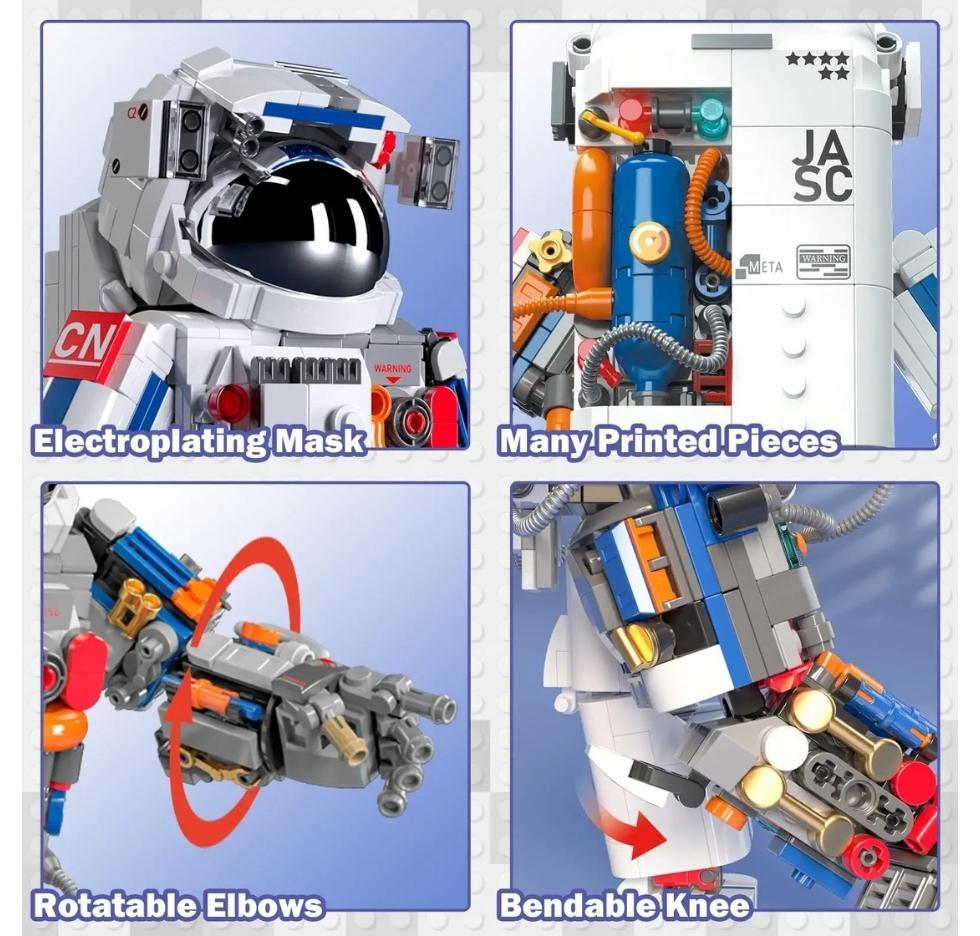 【Movable Astronaut】This astronaut toy set contains 900 bricks that can be built into a movable astronaut model. More than 20 movable details increase the playability of building blocks. Use ball joint blocks to make joint movement more freely and easily create various shapes. The knees can be bent, the elbows can be rotated, the five fingers can be moved, and the shoulder joint can be slightly lifted and rotated. Overall is very smooth.
【Exquisite Craftsmanship】The spaceman model contains some printed pieces. Each particle of our astronaut building sets is made by multiple processes, which can be firmly spliced and not easy to fade, and the texture is excellent. The astronaut's mask is as translucent as a mirror, and the details show the quality of originality. The fine internal hose and mechanical structure show the charm of aerospace technology. Once built, it will be a great model.
【Build Space Dreams】This space toy is easy to build, everyone can assemble a space dream of their own, enjoy the interesting assembly process, feel the charm of spaceflight, and create their own astronaut model. The set includes a detachable base. The astronaut can quickly fix the matching base or remove it from the base, and can still stand stably after being removed. Not only is it an ornament, but it is also a free-standing spaceman model when removed from the base.
【Ideal Gifts】One side shows the exterior structure, and the other shows the interior structure. Brick parts come in numbered bags for accessible buildings. Packed in a black gift box, and come with a detailed instruction manual, our space toys building block set is a great gift option. These are collectible astronaut toys that are the perfect birthday or Christmas gifts idea for space enthusiasts and mechanics aficionados. The finished spaceman model measures 5in(L)x6.1in(W)x9.6in(H).
【Excellent Customer Service】You can buy building toys at the JMBricklayer store with confidence. Before the product is packaged, we go through several rounds of inspection to ensure that the accessories are complete. If you find that some parts are missing during the building process, please feel free to contact us and we will reissue them for you. If there is any problem, we will try our best to provide you with a good solution.
JMBricklayer spaceman 70102
This space-themed building set will take you on a wonderful journey into space. The combination of internal structure and external structures creates a great image of an astronaut. Designed with spherical joint building blocks, there are more than 20 movable details here, making this astronaut model more playable and allowing you to easily create various shapes. The kit includes printed pieces to create an exquisite spaceman without stickers.
Electroplating Mask

The astronaut's mask is made of electroplating technology, which is as transparent as a mirror and has a great texture. With this premium helmet, the entire astronaut figure looks very noble.

Fine Internal Structure

The exquisite internal hose and mechanical structure show the charm of aerospace technology. As you build this spaceman set, you'll be amazed by the amount of fine detail.

leg Details

The shoulders of the astronaut can be lifted slightly, the elbow can be rotated, the ten fingers are movable, the knee can be bent, and a large number of movable details make this astronaut model come alive.
Exquisite Nameplate

This space set comes with a buildable base with a fancy nameplate. Astronauts can be quickly fixed on or removed from the base, and astronauts can also stand stably without the base.

Designer Toys

This art toy has both display value and collection value. The fantasy space theme coupled with its unique structure will bring you a different building experience. People who like designer toys will definitely like this creative set.

Cool Decoration

Not only a building project, our astronaut set also makes an amazing decoration. You can place it in your living room, study or office, etc. It is an attractive display model.