Description
🌈 Mini Home Appliance Building Set – JMBricklayer mini building block set includes 12 small home appliances toys of different styles, such as camera, computer, multi-function cooking pot, electric fan, noodle maker, etc. Each girl toy is rich in color, realistic in shape, and looks very cute. Children can gain a deeper understanding of everyday household appliances through the mini toy set, and parents can enjoy the fun of assembling blocks with their children.

🍰 Friends Party Favor Toys – Our appliance model toys are a great party favor set, you can share these colorful mini toys with your friends. And this mini appliance toy not only allows children to have a better understanding of colors and shapes during the building process, but also stimulates children's imagination and creativity by assembling building blocks, and cultivates their hands-on ability. Overall, this is a great puzzle educational toy set.

🎁 Ideal Gift for Boys and Girls – This electrical appliance set with rich styles is an ideal gift for girls, boys. It is a great holiday party favor no matter it is for birthday, Christmas, friends gathering or other occasions. In addition, girls can also use them as trinkets to decorate the room, display them anywhere in your room, add a touch of warmth and fun to your living space, and you can also take them out to play at any time.

🌼 Imaginative Role-Playing Games – If you are looking for a mini toy set suitable for role-playing games, then this mini appliance building blocks set is a good choice, and you can use it to spend an awesome play time. And this girl toy set is very suitable for parent-child game activities. You can hold a small family game activity, learn and play with your children, and spend a wonderful parent-child time together.

😊 Easy to Assemble & Safe Materials – Our mini appliance building block set consists of 1323 high-quality building blocks, and comes with easy-to-understand colorful instructions, which can help you complete the construction easily. Plus, our mini toy set is made of safe and non-toxic materials, so you can use it with confidence. However, the set contains small parts, so it is not recommended for children aged 3 and younger to use alone to prevent swallowing.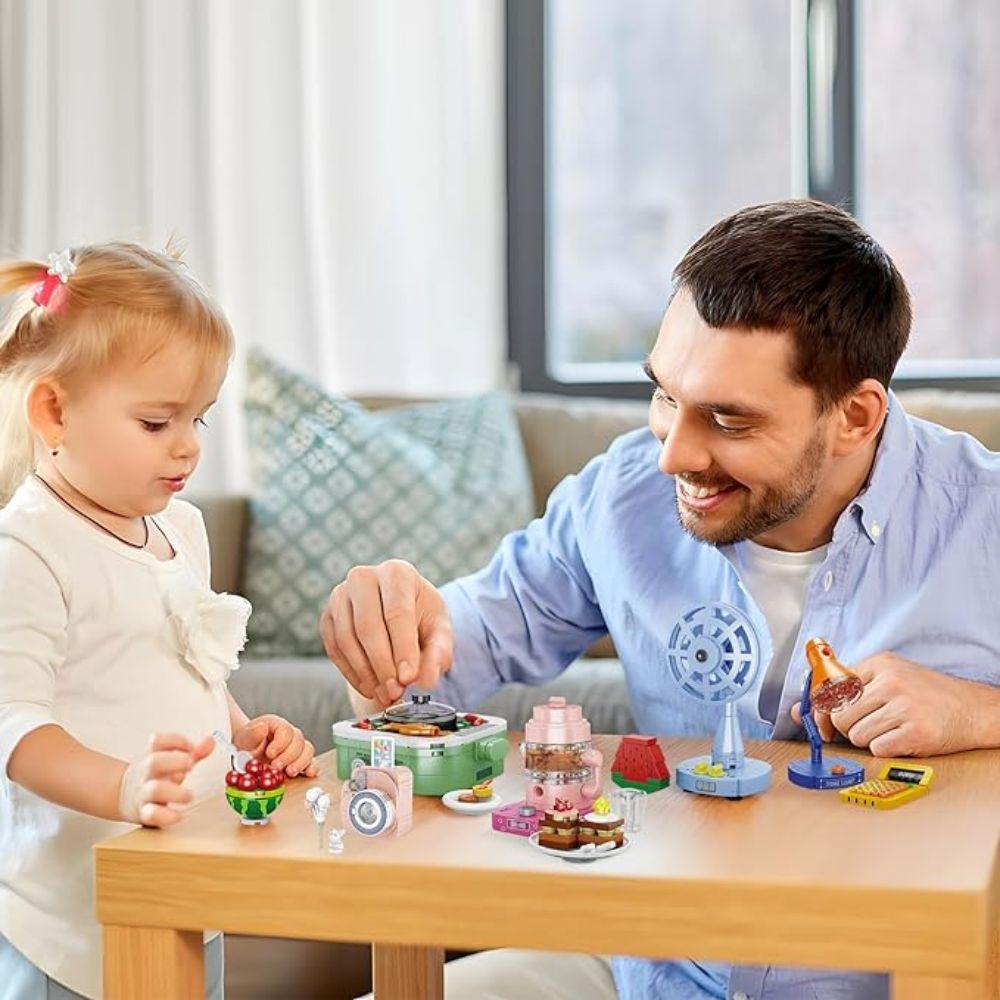 perfect gifts for girls, JMBricklayer girls toy offers a delightful assortment of mini home appliances and friend sets, tailor-made for girls who love imaginative play. These versatile sets not only make fantastic party favors for kids but also provide endless opportunities for creative fun and bonding with friends.