Description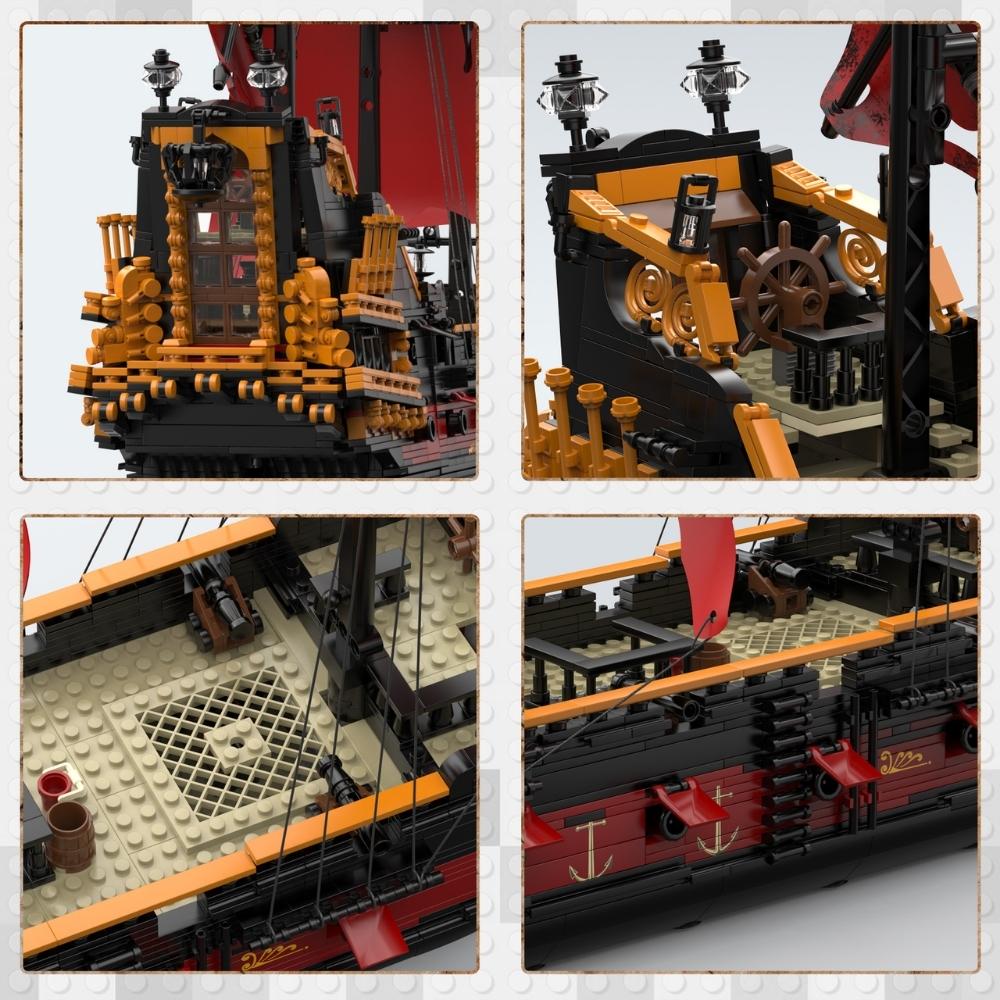 【Pirate Ship】Take a journey back in time with this intricately designed pirate ship building blocks set. Consisting of  blocks, this red ship model is a three-masted frigate with a rich structure, and there are cannons on the side of the ship. Our Revenge ship model restores the scenes in the movie as a whole, and the blood-red sails add a touch of mystery and allure to the ship's appearance.

【Great Showpiece】Looking for a stunning showpiece to adorn your home or office? Look no further than this pirate ship building sets. The striking appearance, smooth line design, and stable structure make it a great decoration for any space. Not only is it a playable building toy, but it is also a permanent collection display that will impress guests and visitors alike. The attention to detail in this model set is unparalleled, making it a must-have for any discerning collector.

【Ideal Gifts Choice】This pirate ship model set makes for the ideal gift choice for any building block or model ship enthusiast. Perfect for teens and adults, this set will provide hours of fun and entertainment for anyone who loves building and creating. It's the perfect holiday or birthday gift for your child, friend, family member, or co-worker who has a passion for all things pirate. This set is sure to provide a challenging and rewarding building experience.

【Enjoy Building】Let your creativity set sail with this pirate ship building kit. We are committed to providing you with an enjoyable building experience that allows you to fully immerse yourself in the world of building blocks. Take some time to focus and concentrate on building your own ship, and enjoy a leisurely and rewarding experience. Comes with a detailed instruction manual, this building toy is suitable for teens or adults aged 8 9 10 11 12 years old, and above.

【Always at Your Service】At JMBricklayer store, you can purchase building toys with confidence. Our building blocks are machine-extracted and undergo multiple rounds of inspections to ensure that all accessories are complete. If you happen to discover missing parts during the building process, please do not hesitate to contact us, and we will gladly resend them to you free of charge. Our team is committed to providing you with a satisfactory solution to any issues you may encounter.
JMBricklayer Pirate Ship 40107
A Charming Ship with Rich Structure and Details
A Display Pirate Ship Worth Adding to Your Collection
Building Set Gifts for Teens or Adults