Description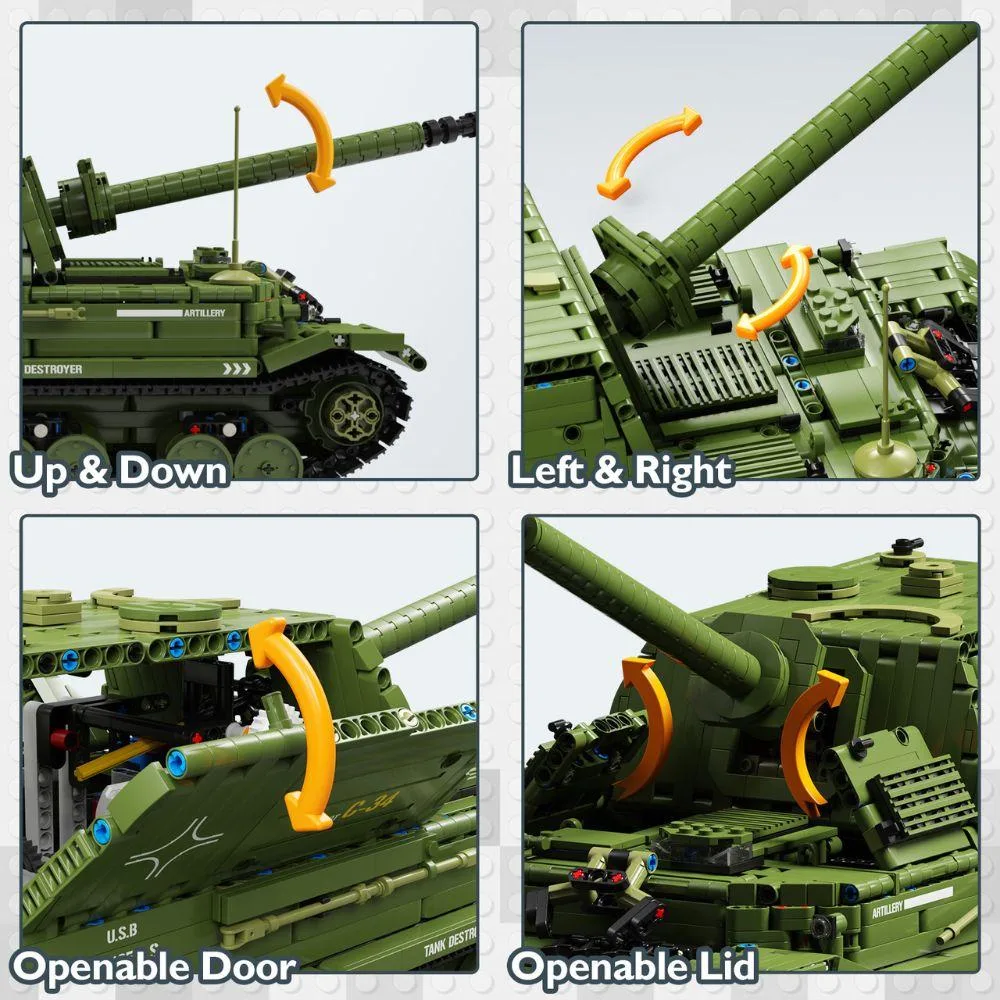 Amazing Tank Toy – Immerse yourself in the world of WW2 military history and ignite your passion for construction with our exceptional Ferdinand tank building set. Colored in authentic army green, this model boasts an astonishing level of detail, bringing the iconic tank to life with stunning realism. As you assemble each piece, you'll not only enjoy an engrossing building experience but also deepen your knowledge of the background and significance of the famous Ferdinand tank destroyer.

Unparalleled Meticulous Details – Tanks come equipped with functional barrels that elevate playability to a whole new level. With the gun barrel's ability to swing up, down, left, and right, you'll experience precise aiming just like real tank commanders did. The gun bracket in front of the turret can be raised, ensuring the long barrel remains steady during imaginary military operations. Moreover, the tracks connect seamlessly to the wheels, allowing you to push the tank forward effortlessly.

Awe-Inspiring Collector's Piece-Once you've completed building your own Ferdinand tank destroyer model, you'll have a captivating military display piece to showcase. Whether it stands alone or alongside other military displays, this vintage tank will enhance your decor and bring an air of history and valor to any space. Showcase this piece of history and share the story with fellow enthusiasts, honoring the bravery and ingenuity of the soldiers who once operated these formidable machines.

Popular Gifts-Searching for a gift that will leave a lasting impression? Look no further! JMBricklayer tank 61509 building set is the epitome of an original armored tank, making it a top-notch gift for teens and adults alike. With its awe-inspiring looks and impeccable details, this construction toy is sure to win the hearts of military fans. Give the gift of excitement, education, and creativity with this coveted tank set.

After-Sales Service – When you choose JMBricklayer, you're not just buying a building toy; you're becoming a part of our family. We stand behind the quality of our products. Despite our strict quality control measures, if you happen to encounter any missing pieces, our dedicated customer support team is here to assist. Reach out to us, and we'll promptly send you the missing piece free of charge, ensuring your complete satisfaction with our product.